Our Signature single day kayaking trip down the Congaree River.
Your adventure begins on the banks of the Congaree River in Cayce. Your guide will meet you and then set up all guests with their very own kayak for the day. Our kayaks will be pre-loaded with lunch and a cooler with cold drinks. During your adventure you will paddle near the site of Fort Congaree, alongside the Cherokee Trail and make a stop on a sandbar near where Congaree Indians once lived. We will introduce our guests to the history of the Congaree Indians for which the river gets its name. Further downstream on your adventure you will be taken back to a time when river boats ruled the Congaree River and helped in the development of Columbia. You will get to paddle past a sunken river barge that is still partially exposed in the river. Along your adventure our guides will point out some of the characteristics of the river and the abundant wildlife that calls it home including Eagles, Deer and Wild Boars.
We'll make scheduled stops on beautiful, secluded sandbars where you'll get a chance to play in the river and have lunch. We can also introduce our guests to the game known as Geocaching while on this trip as we will pass by several.
These trips are scheduled for Saturdays in June thru early August. Special trips can be booked with advanced notice. Due to the length of this trip (11 miles) it is not recommended for kids under the age of 12.
If you would like to book a trip for your family, group or business contact us and we will set you up with the date that works best for you.
**If you are part of a group that has their own kayaks and gear and would like to paddle this section contact us about our guide rates for groups.**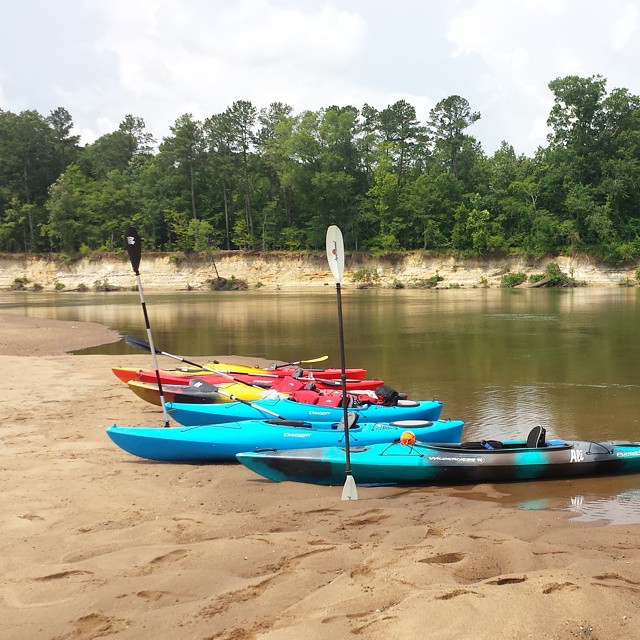 Spots are limited for these trips. We only book up to 6 people per trip to make sure that all our guests have our guide's full attention. Don't miss out on a chance to see this beautiful section of river. We are the ONLY outdoor company in Columbia with river access for single day trips of this type in Columbia.
Current trips planned:
2017 Trips:
Saturday June 3rd: Fully booked
Saturday June 10th: Fully booked
Saturday June 24th: Fully booked
Saturday July 8th: Fully booked
Saturday July 22nd: Fully booked
Saturday July 29th: 1 Spot available
Saturday August 5th: Fully booked
Saturday September 30th: 2 Spots Available
Cost: Our Single Day Kayaking Trip cost is $85 per person. This includes your kayaking gear, lunch, drinks and return transportation. Each trip is fully guided.

We try to update spots available on a daily bases. However, spots listed as available may have been taken and not updated yet. Please give us a call at 803-381-2293 to check availability.
"How long is this trip?" – Our signature single day kayaking trip is approximately 11-12 miles long.
"How long does it take?" – Our trip starts at 10am and ends at approximately 4pm. You should expect to be returned to your vehicle by 5pm but it could be later. Note that trips can be shorter or longer depending on the group speed.
"Are there any rapids on this portion of the Congaree River?" No, it is all flat water.
"Is the return shuttle service included in the trip?" – Yes. We will pick up all our guests at the exit point on the river and return them to the trip starting point.
Any more questions please call or Contact us and we will answer your questions within 24 hours.